Hampshire Hawks will face Sussex Sharks for the second time this season. The Hawks defeated the Sharks by 10 wickets at The Rose Bowl thanks to an unbeaten opening stand of 145 runs between Ben McDermott and James Vince.
Even with a bowling attack that includes names like Shadab Khan, Nathan McAndrew, and Tymal Mills, Sussex Sharks have been utterly unimpressive with the ball. The Sharks conceded 258 runs after opting to bowl first in their last match, which was played at home.
Hampshire Hawks, on the other hand, have shown consistency with both the bat and the ball. Though the Hawks failed to defend a 177-run total in their last match, Kent will be confident going into this match.
The home team faces an uphill battle as they prepare for their next T20 Blast match against an in-form and consistent Hampshire Hawks.
The South Group Match between Sussex vs Hampshire will take place on June 16th, 2023 at County Ground, Hove.
Match Details to Note
Match: Sussex vs Hampshire, South Group Match, T20 Blast 2023
Date: June 16, 2023 (Friday)                                                         
Time: 11:30 PM IST
Venue: County Ground, Hove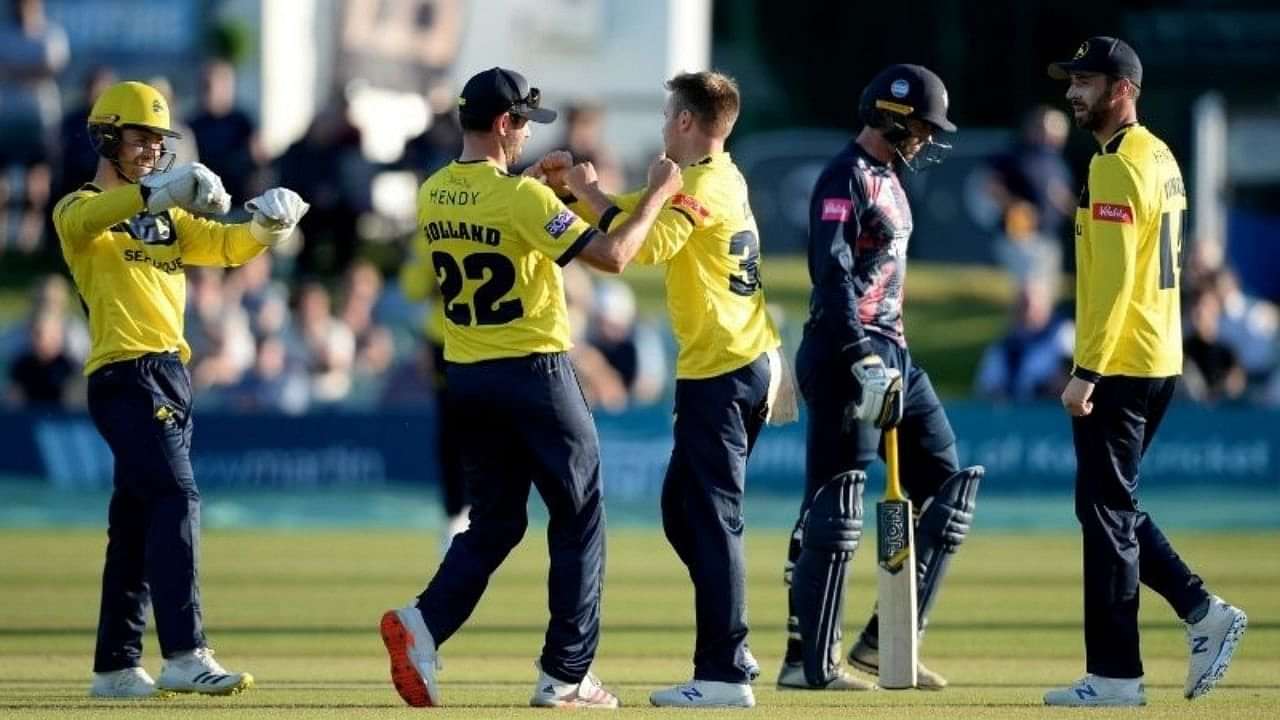 Preview:
Sussex Sharks have failed to live up to expectations this season, despite being captained by Ravi Bopara, an experienced all-rounder. The Sussex squad has many promising players in every position.
However, each of them has failed to deliver, and the team has lost 6 of its first 8 games. Their defeat to Hampshire Hawks was one of their worst, as they failed to take a single wicket while defending 144 runs.
Their previous outing at this venue was also disappointing, as they surrendered 258 runs after opting to bowl first. Shadan Khan's poor form continues, while McAndrew struggles to make an impression in the T20 Blast.
Bopara will be hoping for these two to turn things around, as well as Tymal Mills to step up and lead the pace attack. At the moment, all he can do is hope that his key players deliver.
No player has shown any promise, and things have gotten even worse with the bat. Tom Clark is expected to get the Sharks off to a good start, but none of the top three batters have been consistent. Tom Aslop has the ability to score quickly and big, but he hasn't appeared to be in good shape.
Full Squad:
Tom Clark, Michael Burgess(w), Oliver Carter, Ravi Bopara(c), Shadab Khan, Danial Ibrahim, Archie Lenham, George Garton, Bradley Currie, Henry Crocombe, Tymal Mills, Harrison Ward
Recommended: Sign up at Cricbaba.com to get an exciting Welcome Bonus and start placing bets now!
Players to watch out for:
Ravi Bopara
The right-handed batting all-rounder has a best T20 score of 105 not out and has played in nearly 450 T20 matches.
Shadab Khan
The Pakistan all-rounder has struggled with the ball in the Vitality Blast, but he hit 59 runs against Middlesex.
Tymal Mills
The England international left-arm pace bowler has yet to lose a wicket in this year's tournament and missed the previous game against Hampshire, so he will be looking to make an impact in this match.
Possible Playing XI:
Tom Clark, James Coles, Tom Alsop, Ravi Bopara (c), Shadab Khan, Michael Burgess (wk), Danial Ibrahim, Fynn Hudson-Prentice, Nathan McAndrew, Tymal Mills, Henry Crocombe
Preview:
This season, James Vince has led the Hampshire Hawks brilliantly, and they are now ranked third, one win behind the number two team. The Hawks will come into this game with confidence after performing consistently throughout the season.
Hampshire's top-order batsman, Ben McDermott, is in good form, while Joe Weatherley has been a reliable middle-order batsman who has led Hampshire's comeback in difficult times. A batter like Weatherley who can bail a team out of trouble is a valuable asset to any team. Though the bowlers haven't been spectacular, they have consistently delivered a team effort, which has resulted in Hampshire Hawks' consistent victories.
Hawks failed to defend 170-180 run totals against Kent and lost by 6 wickets after consistently defending 170-180 run totals. They want to quickly put the previous game behind them and get back into shape.
In the Hampshire bowling attack, keep an eye out for Mason Crane, Nathan Ellis, and John Turner. The two openers in the batting lineup are critical to a good start, while Ross Whiteley, Liam Dawson, and C Wood provide depth.
Full Squad:
Ben McDermott(w), James Vince(c), Toby Albert, Joe Weatherley, Ross Whiteley, James Fuller, Liam Dawson, Chris Wood, Nathan Ellis, Mason Crane, John Turner, Tom Prest, Scott Currie, Aneurin Donald
Recommended: Sign up at Cricbaba.com to get an exciting Welcome Bonus and start placing bets now!
Players to watch out for:
James Vince
Hampshire will benefit if the right-handed England international is not called up during the Ashes. Vince has scored more than 9100 T20 runs.
Ben McDermott
The keeper-batter bats alongside skipper James Vince in the opening spot. In the most recent match, he scored 57 runs off 30 balls against Kent Spitfires.
Nathan Ellis
The Australian bowling all-rounder is a talented T20 player who has competed in many of the world's top leagues. He also has a strong international track record in this format.
Possible Playing XI:
Ben McDermott (wk), James Vince (c), Toby Albert, Joe Weatherley, Ross Whiteley, James Fuller, Liam Dawson, Chris Wood, Nathan Ellis, Mason Crane, John Turner
Sussex vs Hampshire Batsmen Worth Watching
Sussex's batsmen are Ravi Bopara, Shadab Khan, and Tom Clark. Clark scored 43 runs off 23 balls at the top of the order in Surrey's crushing defeat. Khan's highest T20 score is 91, and he has seven half-centuries in this format.
Our batting picks for Hampshire are James Vince, Ben McDermott, and Joe Weatherley. Weatherley comes into this match having scored 59 not out and 67 in his previous two T20 appearances. McDermott has three T20 centuries to his name.
Sussex vs Hampshire Bowlers Worth Watching
For Sussex, we recommend Shadab Khan, Tymal Mills, and Henry Crocombe with the ball. Crocombe, 21, struck out Laurie Evans and Jamie Overton in the previous game against Surrey. Khan takes his turn in Hove and has 281 wickets in his T20 career.
Hampshire's top bowlers are Liam Dawson, Nathan Ellis, and Mason Crane, in that order. At the age of 26, spinner Crane has already played 87 T20 games and taken 95 wickets. Dawson had 2-18 in the previous match against Hampshire.
Sussex vs Hampshire Toss Prediction
Batting first teams have won three of the four matches played at this venue. The Sharks are in no shape to chase down a large total, whereas the Hawks would expect their top-order to go berserk and post a large total, putting the hosts on the back foot.
Sussex vs Hampshire Pitch Report
Sussex Sharks and Hampshire Hawks will meet again at County Ground in Hove. It is one of England's oldest venues, and the average first innings score in T20s here is 169. Hampshire Hawks hold the record for the most runs scored on this ground (249). We believe a first-innings score of 190+ would be a match-winning total.
Recommended: Sign up at Cricbaba.com to get an exciting Welcome Bonus and start placing bets now!
The pitch may provide some assistance to new-ball bowlers, and they may enjoy some movement off the surface. Batting will become easier as the game progresses, and many runs will be scored in the death overs. Hove will have a sunny day with a high temperature of 23 degrees Celsius.
Sussex vs Hampshire Prediction
The last time these two teams met at The Rose Bowl, Hampshire Hawks completely outplayed Sussex Sharks. Even though it is the Sharks' home ground, they have no advantage this time. Their mainstays are out of shape and inconsistent. The visiting team was consistent in all aspects of the game. Their biggest strength is their lower middle order, which features useful batters who can finish games or even pull the team out of trouble. In our match prediction, Hampshire Hawks will be the favorites. Check out the odds at Cricbaba!
Hampshire is the favourite to beat Hampshire at the odds of 1.55.
Sussex vs Hampshire Most Recommended Player for Bet:
James Vince has already scored 406 runs in this year's T20 Blast, and he is a strong contender for Hampshire's highest run scorer in this match.
—–>Click here for more details of your betting odds<—–